Well ive wanted to do a build thread for ages so fuck it here it is:
I bought the golf about a year ago and it was a bit of a shed, someone had already done a 1.6 engine conversion from the 1.3 it used to be but the list of things right with it was much shorter than things wrong with it.
The mods so far:
-1.6 engine conversion
-stainless 2.5 inch exhaust system with GTI manifold and front pipe
-upswept DTM back box
-lowered all round by 60mm
-new clutch
-new gearbox
-Manual adjusting clutch cable
-new radiator + fan
-new hella headlights
-gti front brake setup
-fox multispoke alloys
-new carb
-gti cams
-billstein shockers all round except one of the rears which leaked so replaced with a gay KYB one (funds are tight atm)
-new speakers and stereo with a dinky sub in the boot
probably some other stuff too that ive forgotten, ill put it up if i remember

Last year i ran out of talent one day on the way to work and smashed all my front end up which sucked. But despite all the people telling me to bin it i repaired it anyway and it looks much better now

I took the engine and gearbox out recently to swap the box over and do my timing belt and intake manifold gasket at the same time, got a few pictures of this so ill put em up.
The car before:

The car with engine out:
The car with engine back in: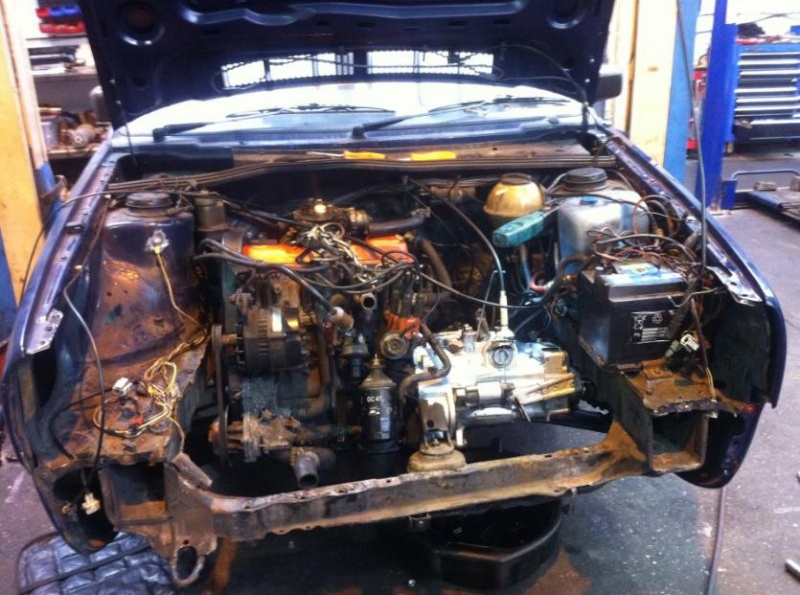 The car with no engine and standard springs on the front (for the MOT lol)
Ive got a webber carb to put on just waiting on a base mount and an o ring for my intake to stop the bastard coolant leak

Hopefully will all be sorted next weekend

Ive also got a set of BBS alloys to put on but I want to paint em black first, hopefully will be done in the next couple of months.
Ill keep this updated as i go on