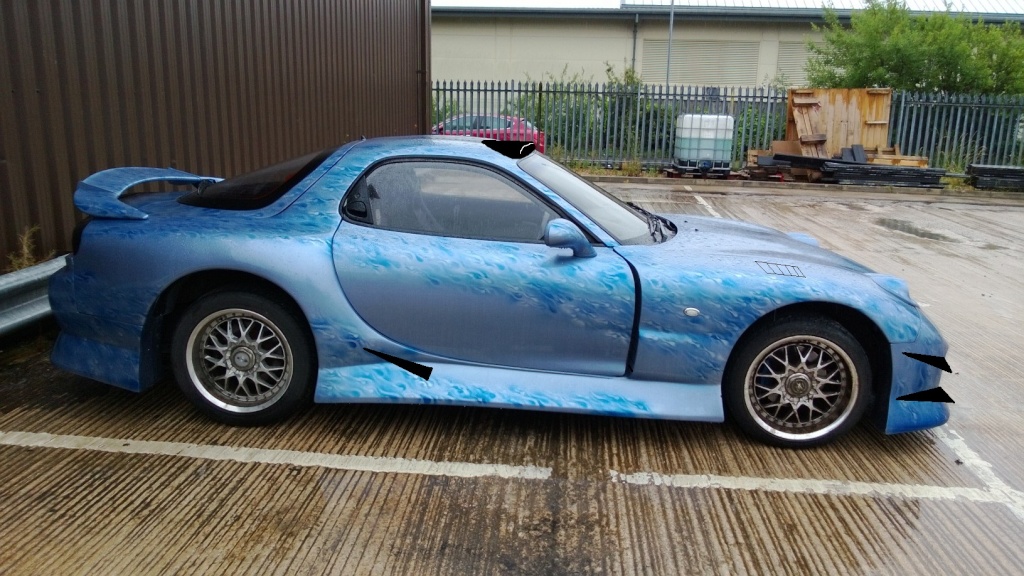 Bought it cheap, Plan is to strip it and make it quicker than it already is while spending very little on it and doing as much as possible my self. Right now its a dog, has a £3000+ paintjob that quite frankly is disgusting and will need changing. I want to make it as quick as possible and use it as a track/road legal demo car to potentially use for showing off some hydrographic dipping and plasti dip that I intend to start doing as a business.
Specs are, 2.6 (1.3 rotary engine) twin turbo, 265 bhp standard at 1250 KG Aiming at 300BHP and trying to get to £1000KG and a quater time in the 12 second bracket with the handling of a go kart.
If any 1 doesn't know much about FD's they held the record for the fastest stopping time for about 10 years, still classed as 1 of the best handling sports cars ever made, in fat I just watched an upgraded FD destroy and upgraded 800BHP new gtr on a touge run on GT channel on Utube. In my opinion the best looking cars to leave Japan ever aside from a 240z and an nsx. known for a terribly unreliable engine thanks for its double rotor engine that usually requires a rebuild after 40,000 miles. Eats oil like it does fuel and runs about 15mpg.
Super wide body kit, same 1 as the mad mikes rx7 in New Zealand, this will be modified as well.
Fairly large exhaust pops when hot and hard shifting. Uprated plugs and knight sports ECU, Expecting around 300bhp without me spending anything just with the listed mods that came with the car will dyno though to check.
Some pro's though. Has full adjustable suspension clearly around the £2000 mark, Genuine ray volks racing alloys again around the £2000 mark new but no use for this car too small.
Plans are to rip out interior and all unnecessary bits, remove abs as it's shit for the track and the car is unlikely to be used in the rain as they are lethal. Replace a couple of bits with CF parts. Potentially replace intercooler etc. Possibly drill the pads, Stick wider tyres on, Hopefully 265 or wider. Finish it in matt white with matt black alloys. Hopefully all done for 29th meet.
Costs listed below.
Expenses.
Purchase price £1800.
Lexan windows DIY £30
Carbon siebon bonnet, wait for it!!! £100 !!! Get in!
Carbon effect RE ameyia spoiler £100
Plasti dip paint etc, £355
Plastic panel for interior section £10
Wheels £320 (19" with tyres)
Racing seat £124 including 4 point harness. Weighs 3kg down from 12kg
Drift style suede wheel £35 Plus £40 for adapter and remover.
Gear knob £12
Rear diffuser £80 (2nd hand off of a specific racing car, no idea what it was tbh)
toy £12 (not saying what it is yet)
Dump valves, pair required £80
Spacers £120
Wheel bolts £40 ordered wrong ones like a tit so bought twice!
Carbon mirrors £40
Total spend upto now plus a couple of other bits £1628
Total £3428
Sold parts removed from car
Alloys £400 to Big bold twat (cal)
Total £3028
Expected sale prices of other bits
Bonnet £140
Roof lining £25
Passenger side door card complete £30
Original carpet mats set £20
Dashboard only £30
Rear interior door trim both sides £60
spoiler £80-130
Clock surround £30
Carpets £60
Spare Wheel £25
Rear wiper motor £15
Wing Mirrors £38 each (£76)
windows £60 each (£120)
window motors £38 each (£76)
Seats £130 (sold if he pays)
Total £937 (if sold £2091)
Boot carpet £17 (sold)
Center section £50 (sold)
Boot wheel cover £12 (sold)
Rear seat belts £13.50 (sold)
Rear seat £22 (sold)
Boot trim surround long section £15 (sold)
Total plus some postage costs £127.50 (£1963.50)
Plus some other bits I have forgot. Possibly another £200 worth. (£1763.50)
So around £218 in total upto now for a car that would normally be around £5-7000. Not too bad.
Also considering an hydrolic hand brake, you know for messing around.